OUAGADOUGOU – Burkina Faso's government has suspended indefinitely the transmission of France 24 programmes on its national territory following an interview with the head of al-Qaeda militant group's North Africa wing, Aqim.
In a statement, Burkina Faso's minister of communication, Jean-Emmanuel Ouedraogo, accused France 24 of "acting as a mouthpiece for these terrorists" and "providing a space for the legitimisation of terrorist actions and hate speech".
He added that the government had taken the decision "in all responsibility, and in the name of the superior interest of the nation".
The interview in question featured Aqim's leader Yezid Mebarek, which was broadcast on France 24 earlier this month, after France killed his predecessor in an air raid.
The move comes as the relationship between the African country and France continues to sour since the coup in October last year.
Burkina Faso expelled French troops who had been unsuccessfully fighting the Islamists and invited Russian mercenaries in their stead.
France 24 has yet to respond to the decision.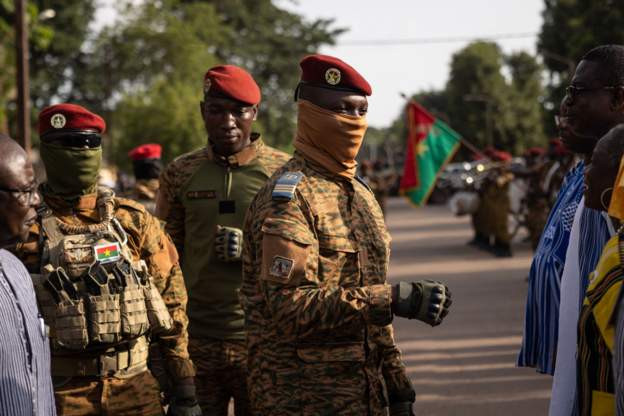 This move is a concerning development for the freedom of press in Burkina Faso, which has faced several attacks on journalists and media outlets in recent years.
In 2019, Reporters Without Borders ranked Burkina Faso 36th out of 180 countries in its World Press Freedom Index, but the country's media landscape has become increasingly volatile since then.
"We call on the authorities to respect press freedom and allow France 24 to resume its operations in Burkina Faso," said Arnaud Froger, the head of RSF's Africa desk, in a statement.
"We urge them to revise their position and stop using censorship as a tool for retaliation."
Meanwhile, concerns remain over the growing influence of extremist groups in Burkina Faso and the wider Sahel region.
The country has seen a surge in jihadist attacks in recent years, which have killed hundreds of people and displaced thousands more.
As the situation continues to escalate, the international community has been called upon to step up its efforts to counter the growing threat.